ADATA SDXC karta 256GB Premier One UHS-II U3 Class 10 (R:275/W:155 MB/s)
Přidat do oblíbených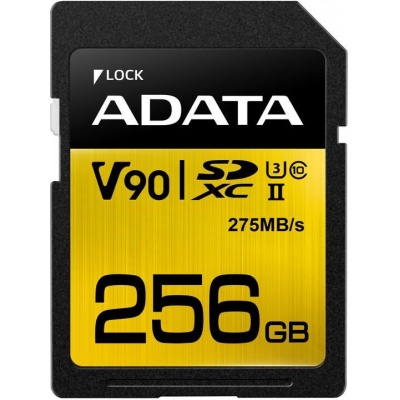 Popis
Parametry
Hlídací pes
Premier ONE SDXC UHS-II memory cards meet the latest standards, providing ultra-fast read up to 290MB per second, which is 3 times faster compared to UHS-I SD cards. Premier ONE SDXC UHS-II memory cards also support highest-level V90 video playback. Thanks to these remarkable improvements, they are perfect for high-end digital video recorders and cameras, enabling users to continuously photograph, record, and play Ultra HD 8K, 4K, and 3D/VR content. Backed by solid multi-point protection, Premier ONE SDXC UHS-II Class 10 (U3) memory cards are the most durable and reliable choice for professional photographers and enthusiasts in capturing every monumental moment!

UHS-II performance boost!
Premier ONE SDXC UHS-II memory cards support the new UHS-II standard and are backward compatible with UHS-I. They feature improved read/write performance for quicker file handling, shorter upload times, and better transfer efficiency. To transfer large RAW files also takes a few seconds - perfect for professional photographers!

High fidelity burst modes - no problem
With high write speeds up to 290MB/s, Premier ONE SDXC UHS-II Class 10 (U3) cards enable users to easily capture and transfer images using professional cameras in the highest resolutions even in burst mode.
V90 video speed
Premier ONE SDXC UHS-II memory cards meet V90 specs, meaning they can record up to 90MB of video per second. This is more than enough for Ultra HD 4K, 8K, 3D, VR content, and 360-degree capture, all of which are especially suitable for professional photographers.
High storage capacity
Providing a wide capacity range from 64GB to 256GB, Premier ONE SDXC UHS-II memory cards allow users to store thousands of photos and hours of full HD video. Whether working on burst photography shoots or recording continuous video, Premier ONE memory cards enable you to concentrate on the task at hand without worrying about getting interrupted by running out of space.
Full protection for high durability
Premier ONE SDXC UHS-II memory cards are equipped with automatic error correcting code (ECC). They pass rigorous waterproof, shockproof, X-ray proof, and anti-static testing for rugged durability.

TECHNICAL SPECIFICATIONS
Capacity
256GB
Standard
SD 4.0
Dimensions (L x W x H)
24 x 32 x 2.1 mm
Weight
2g
Working Voltage
2.7V-3.6V
R/W Performance
up to 290MB/260MB per sec (64GB/128GB), 275/155MB per sec (256GB)
*Read/write speed based on ADATA internal testing, actual performance may vary. Max speeds only when paired with UHS-II compatible device
Speed Class
UHS-II U3 Class 10
Compatibility
DSLR / Full HD camcorders / 3D full HD camcorders
Operating Temperature
-25°C to 85°C
Certifications
FCC, CE, VCCI, CTICK, EAC
Warranty
Lifetime
.
Technologie paměťové karty:
SecureDigital eXtended Capacity (SD XC)
Aktuální cena produktu je
5810
Kč  s dph