AVERMEDIA CE310B, SD PCIe střihová karta
Přidat do oblíbených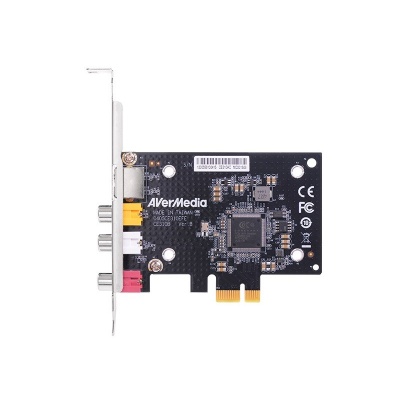 Popis
Parametry
Hlídací pes
SD PCIe Frame Grabber with Composite / S-Video Interfacing
The CE310B is a PCIe video capture card featuring Composite, S-video and stereo audio inputs. The CE310B is developed for users who require the capture from an analog source. It supports analog video from NTSC/PAL formats into uncompressed video at real time frame rate (25/30 fps). With Windows Direct Show & Linux V4L2 framework, CE310B supports a diverse range of well-known third party software. The combination of extensive support for third party software and a flexible SDK option, the CE310B is the ideal solution for professional video capture applications.
Outstanding 3D Y/C Separation
Video quality is paramount in any capture card solution. CE310B features AVerMedia technology to maintain superior image quality when capturing video. CE310B utilizes 3D Y/C separation for high-precision separation of composite video signals into luminance (Y) and chrominance (C) signals. The separation technology minimizes distortion, cross-luminance, and cross-color artifacts resulting in brighter and more accurate color for unprecedented video quality.
High Performance PCIe Board
The PCIe design achieves video data delivery without compression. CE310B transmits video directly using Direct Memory Access (DMA) into the main system memory reducing latency and CPU loading ensuring consistent high performance.
Analog Video Capturing
Video from analog source (composite or S-Video) can be captured and stored with uncompressed format which can be easily edited with various editing softwares. The CE310B includes female RCA jacks for composite video inputs and a standard 4-pin DIN connector for S-Video supporting input video at 720 x 480 @60i and 720 x 576 @50i resolution, respectively.
SDK Support
The CE310B is a complete analog capturing solution supporting features to meet professional applications and comes with a flexible SDK for easy and seamless integration.
Features:
Outstanding 3D Y/C separation
Supports uncompressed video capture in AVI or WMV format
Capture and digitize NTSC/PAL analog video signal
Specifications:
Interface
PCIe 1X
Input
Composite / S-Video
Output
N/A
Input Video Resolution


Note: Signal is considered progressive unless otherwise stated.

Composite / S-Video:720x480@60i, 720x576@50i
Capture Video format


*Captured format is converted to progressive scan

160×120,176×144 (PAL only)
240×180,240×176,320×240,352×240,352×288 (PAL only)
640×240,640×288,640×480,704×576 (PAL only)
720×240,720×288,720×480,720×576 (PAL only)
HW Scaler
Down scale*
*Frame rate settings are the same as the source
Pixel Format
YUY2 (4:2:2)
Color Adjustment
Brightness, contrast, hue, saturation, sharpness
Audio Sampling
48KHz, 16bit
Multi-Card Support
Yes
Multi-Channel Support
No
Crossbar Necessary
Auto
Audio CaptureFilter Support
No
HW / SW Encode Support
SW
3D Y/C Separation
Yes
Supported OS
Windows 7/8.1/10 (32/64 bits)*
Dimensions (L x W)
93.5 x 68.78mm
.
Druh zařízení:
Střihová karta
Další parametry:
Nahrávání z ext. Zdrojů
Aktuální cena produktu je
1529
Kč  s dph