Cooler Master case MasterBox MB311L, aRGB, microATX, černá, bez zdroje
Přidat do oblíbených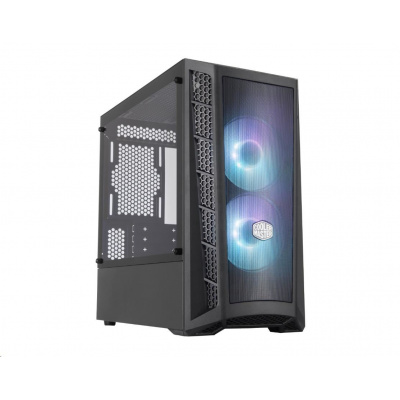 Popis
Parametry
Hlídací pes
MasterBox MB311L aRGB
The MasterBox MB311L ARGB is a Micro-ATX airflow PC case pre-installed with two ARGB fans and made to be built with the latest gaming hardware. The front panel's façade is made entirely of Fine Mesh, placed between two honeycomb vents on either side to maximize airflow. Since running the latest games, smoothly, means keeping the latest hardware efficiently cooled, top panel ventilation offers the option to add even more cooling hardware—if nothing is mounted, the top panel acts as passive ventilation.
The internal layout was engineered for a high compatibility for the latest gaming hardware while also accounting for future upgrades. Following in the principles of the award-winning MB Series, versatility is paired with presentation to ensure that any gaming system built inside the MasterBox MB311L looks as good as it performs.
Fine Mesh Front Panel – Cooler Master's Fine Mesh design on the front panel is proven to provide proficient airflow while filtering out dust.

Mesh Intakes – Large, mesh intakes span each side of the front panel to provide additional airflow to system.

Dual ARGB Fans – Two pre-installed 120mm ARGB fans can be managed by the motherboard, and connected by the included splitter, to create a comprehensive ARGB lighting system.

Optimized Airflow – Airflow is optimized by a collaboration between the Fine Mesh front panel, additional mesh intakes, top panel ventilation, and rear exhaust.

Tempered Glass Side Panel – Hardware, custom-loop cooling, and the pure pride of the builder is shown in panoramic view through an edge-to-edge tempered glass side panel.

Adaptable Drive Cage – The drive cage is able to shift toward the front to accommodate for PSU space, backwards to provide additional radiator space, or even completely removed.

Versatile Cooling Options – Support for up to six fans and front, top, and rear radiator support ensure that performance is not compromised.

Room For Upgrades – Support for up to a 344mm graphics card, a 166mm CPU cooler, and up to a 325mm PSU in length provides room for upgrades to stay ahead of the game.

TECHNICAL SPECIFICATIONS
Product Name

MasterBox MB311L ARGB

Model

MCB-B311L-KGNN-S01

Available Color
Black
Materials
Body: Mesh, Plastic
Windowed Side Panel: Tempered Glass
Dimensions (LxWxH)
Excl. Panels: 366.5 x 210 x 400mm
Incl. Panels: 435.5 x 217.5 x 410mm
Motherboard Support
Micro-ATX, Mini-ITX
Expansion Slots
4
5.25" Drive Bays
N/A
Combo 3.5" / 2.5" Drive Bays
2
2.5" SSD Drive Bays
2
I/O Port
USB Ports: 2 x USB 3.2 Gen 1 (USB 3.0)
Audio In/Out: 1x 3.5mm Audio Jack, 1 x 3.5mm Mic Jack
Other: 1x ARGB 2to3 Splitter, 1x ARGB Controller
Pre-installed Fan(s) - Top
N/A
Pre-installed Fan(s) - Front
2x 120mm ARGB Fans
Pre-installed Fan(s) - Rear
N/A
Pre-installed Fan(s) - Bottom
N/A
Fan Support - Top
2 x 120mm / 2 x 140mm
Fan Support - Front
3 x 120mm* / 2 x 140mm
*can only mount behind the front plate
Fan Support - Rear
1 x 120mm
Radiator Support - Top
120 / 240mm
Radiator Support - Front
120 / 140 / 240 / 280 mm
Radiator Support - Rear
120mm
Clearance - CPU Cooler
166mm
Clearance - Power Supply
325mm (w/o front radiator and drive cage)
140 (drive cage in backmost position)
Clearance - Graphics Card
344mm
Cable Routing - Behind Motherboard Tray

18~22mm

Dust Filters
Top, Front, Bottom
Power Supply Support
Bottom Mount, ATX
Dust Filtres
Top, Front, Bottom
EAN Code

4719512097298

UPC Code

884102069598
.
Provedení skříně:
Midi Tower
Počet pozic 3.5" (HDD):
2
Počet pozic 2.5" (SSD):
2
Vybavení PC skříně:
Průhledná bočnice
Aktuální cena produktu je
2059
Kč  s dph